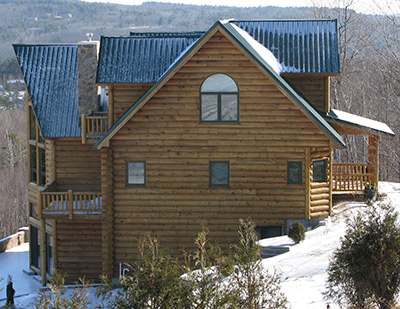 2×6 insulated exterior panelized walls with
round log siding on interior & exterior
Building Alternatives, Inc. is certified by the Environmental Protection Agency (EPA) as an ENERGY STAR builder, adept in the construction of high-energy, environmentally friendly homes. They are expert contractors and consultants who have built a total of 19 (to-date) energy star homes, all tested by a third-party inspection to prove energy star compliance.
Experience
We combine our strengths & experience to provide you the best service and minimize your stress through the process
 Building Green Homes for over 28 years. We were building green back when green was just a color
 Education, Bob has a Civil Engineering Technology degree and an MBA, while Kathe has a BS in Business and an MBA in Finance
 Bob was a civil engineer for modular companies & an assistant construction supervisor in NYC High Rise construction
Kathe has worked 20 years for a manufacturing company which provided the skills to deal with our manufacturers
Have built 19 Energy Star Homes and won 11 awards to date
Certifications
We strive to stay on top of the latest technologies in renewables and energy efficiency.
Bob is BPI Building Analysis certified
Bob is a Certified HERS rater, which means he inspects the work of other builder for energy efficiency
Certified Energy Star Builder
Certified Master Green Builder
Certified Graduate Builder
Master Chief Construction man, Navy Seabees Reserves (retired)