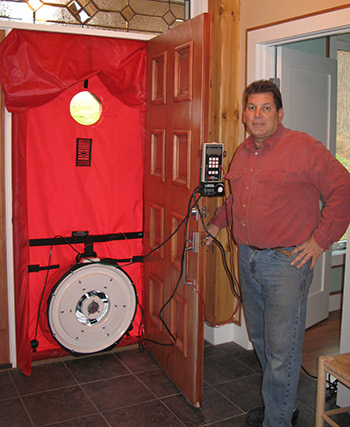 Blower Door Test
ENERGY STAR. It's the little label with the big message: Better is Better.
Building Alternatives Inc is proud to offer new homes that have earned the ENERGY STAR® label. The ENERGY STAR label means that your new home has been designed and built to standards well above other homes in the market today. It means better quality, better comfort, and better durability. It also means that your new home is a better value for today, and a better investment for tomorrow. The ENERGY STAR label gives you the peace of mind that your home has undergone a better process for inspections, testing, and verification to ensure that it meets strict requirements set by the U.S. Environmental Protection Agency (EPA). ENERGY STAR certified homes are better because they are designed and built to provide homeowners:
Peace of Mind. The result of a home that's built better.
With the ENERGY STAR label on your new home, you can be confident that it will deliver. When ENERGY STAR requirements are applied to new home construction, an integrated approach to design combined with tried-and-true best building practices adds up to a durable, comfortable home with reduced utility and maintenance costs. Our ENERGY STAR certified homes have undergone more inspections and testing than typical homes to ensure that your new home was built to higher standards.
Enduring Quality. Better systems make all the difference.
When looking for an energy efficient home you should first start with a builder that has agreed to commit to the Energy Star Certified Homes program. Energy Star helps homebuyers easily identify homes that are significantly more energy efficient than standard construction in the marketplace. As code requirements have become more rigorous and builder practices have become more efficient, EPA has periodically modified the guidelines to ensure that certified homes represent a meaningful improvement over non-labeled homes.
Building Alternatives has vowed to take it one step further by committing to build 100% of our homes up to Energy Star Certified requirements. We've outlined the benefits to a full Energy Star certified home below:
Increase Durability
Built to higher standards based on Building Science
More energy improvements related inspections during construction
Increase value in resale but not on taxes
Superior Comfort
Constant temperatures across every room
Constant supply of fresh, pre heated, filtered air reduces indoor pollutants, dust, pollen, and other allergens
Eliminate drafts
Reduced Utilities
Use 20% – 30% less energy. Up to 60% less energy is even possible.
Smaller heating system needed since the house is so energy efficient
More cost effective use of renewables
Use of energy star appliances
You are now prepared for Renewables
Only if you have an energy tight house should you consider installing renewables.
Many states have a rebate program thru the utilities for building an Energy Star Home
Federal tax credits to homeowner & builder
Zero Energy Ready Home Partner
Building Alternatives started offering and delivering Energy efficient education and construction in 1988. With over 28 years of delivering Energy Star Homes, Building Alternatives has earned the status of a "Zero Energy Ready Home partner". As stated by the US Department of Energy, "Only a select group of the top builders in the country meet the extraordinary levels of excellence and quality". Click here to view more about Zero Energy Ready Home.