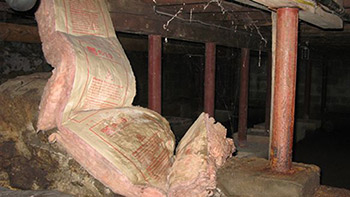 Badly installed Fiberglass Insulation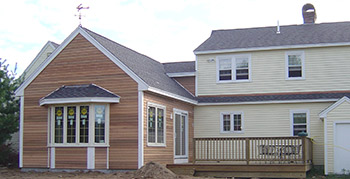 SIPS addition
Seal it up
Plugging up the leaks that allow cold air to slip into your house—and drive up your heating bills—is an important first step in creating an energy-efficient home. 40% of heat loss is thru infiltration of leaks often found around doors and windows, but they are more pronounced in your basement and attic. Below is our list of the best energy improvements you can make in order of payback.
Insulate upstairs
Adding insulation can help keep your home comfortable all year round. "It turns out that about half of the homes in the United States are under insulated," says Kateri Callahan, president of the Alliance to Save Energy. But before adding insulation you should always look to air seal the floors first.
Seal the ducts
In forced-air heating and cooling systems, ducts carry hot or cold air to different parts of home. The Environmental Protection Agency estimates that roughly a fifth of this air escapes through leaks. To address this headache, consumers can use duct sealant to repair leaks in exposed ducts, and insulate the duct if its in an unconditioned space; like your attic.
Install a programmable thermostat
Another way to cut energy costs is a programmable thermostat. These devices "save about 10 percent on your heating bills and your cooling bills in the summer, so they pay for themselves literally in a matter of months," says Kateri Callahan, president of the Alliance to Save Energy.
Replace old windows with energy-efficient ones
Replacing old, leaky windows with higher-efficiency models can also make your home greener. Instead of aluminum-framed models, Paul Zuch, the president of Capital Improvements, recommends that consumers go with wood. Bob recommends vinyl or fiberglass and a u value of less than .32. Changing out windows should be the last energy improvements you make to a home.
Install energy-efficient doors
When looking for energy efficiency, avoid hollow metal doors, says Celia Kuperszmid Lehrman, deputy home editor at Consumer Reports. "Any kind of hollow door is going to be terrible because the air is going to infiltrate right through," she says. Bob recommends fiberglass doors, which are highly energy efficient and stainable.
Add storm windows
Storm windows can be a lower-cost alternative to a full-blown window replacement project. "If your interior windows are in good shape, then [installing storm windows is] a quick way to increase your energy efficiency without going through the expense and the mess of ripping out your current windows," says Celia Kuperszmid Lehrman, deputy home editor at Consumer Reports.
Replace old equipment with energy efficient heating, ventilating, and air conditioning units
Replacing an outdated HVAC system with a more energy-efficient one can lower your monthly energy bills. But before considering this project, it's essential to make sure your home is as well-sealed and insulated as possible. Consider whole house pellets if you have BB hot water of FHA, and geothermal if you have FHA or radiant heat.
Install high-efficiency water heaters
High-efficiency water heaters can drive down home energy costs. "Water heating makes up anywhere from 15 to 25 percent of the annual energy usage in a home," says Steve Koep, a regional sales manager for Marathon water heaters. Consider a solar hot water system.
Benefits of making Energy Improvements
Reduce utility bills up to 30%, possibly 60%
Financial help from many utility companies
Opens up the use of renewables
Claim you basement or attic as additional living space
Eliminate cold drafty rooms
Prevent repainting the exterior of your house year after year
Eliminate frosty windows
Eliminate Ice Dams
Eliminate moldy siding
Eliminate pealing exterior paint